East Point Dumpster Rental
Renting a dumpster in East Point is one of the various ways you can choose to dispose of a large amount of waste from a commercial or residential property. Unlike the other waste disposal options however, renting a dumpster from a reliable East Point dumpster rental company is by far the most affordable, much quicker and trusted way to get rid of waste. Moreira's Service is a trusted dumpster rental service in East Point, GA. Contact us at (678) 330-0522 to rent a dumpster in East Point today.
We Take Just About Everything
Some examples of the junk we haul away include
Refrigerator Disposal

Garbage Removal

Mattress Disposal

Foreclosure Clean Outs
Construction Waste Removal

Yard Waste Removal

Trash Removal

Appliance Removal
Television Disposal & Recycling

Furniture Removal

E-Waste Disposal

Hot Tub Disposal
Rent a Roll-off Dumpster in East Point
What type of project can you rent a dumpster for? Many people still imagine that roll-off dumpsters are only rented for large construction projects and removal of junk and waste from major cleanout or renovation projects. In reality though, you can rent a roll-off dumpster in East Point for any kind of project, as long as it generates more waste than you can use a weekly collection bin to effectively get rid of. Most of our customers often require small to medium size dumpsters that can fit waste from regular projects. Moreira's Service takes pride in offering low-cost dumpster rental services to all residents of East Point and the neighboring areas.

Residential Dumpster Rentals - If you are planning to do a small DIY project at home like a kitchen renovation, an outdoor shed demolition or an attic or basement cleanout project, you would probably just require a small roll-off dumpster that is roomy without being too large. Large project projects will require larger residential dumpsters for more effective waste disposal.

We offer versatile roll off dumpster sizes that range from small containers suitable for DIY projects and other small scale projects, to larger roll-off containers that can accommodate up to six tons of debris, junk or waste. When you need to rent a roll-off bin in East Point GA, you can choose from our 10-yard dumpsters, 15-yard dumpsters, 20-yard dumpsters or our 30-yard dumpster rentals. We accommodate general household waste, junk and debris from almost all home improvement projects.

Commercial & Construction Dumpster Rentals - Plenty of construction firms as well as roofing contractors in East Point depend on us for fast large dumpster rentals that are usually delivered to their work sites when needed with only a phone call. We also prove large dumpsters suitable for large commercial waste disposal projects including; foreclosure cleanouts, rental units cleanouts, storage container cleanouts, and hauling away old office furniture. These are just a few examples of projects that our rental dumpsters are useful for.
East Point Dumpster Rental Sizes
Must you know how to choose the right size dumpster when renting a dumpster in East Point? Put simply, East Point dumpster rental sizes come in different capacities and while one container may have more than the space you need, another container may be too small to enable you to get rid of all your waste at once. When in doubt, please contact us and any of our representatives will be able to help you figure the right size dumpster for your project.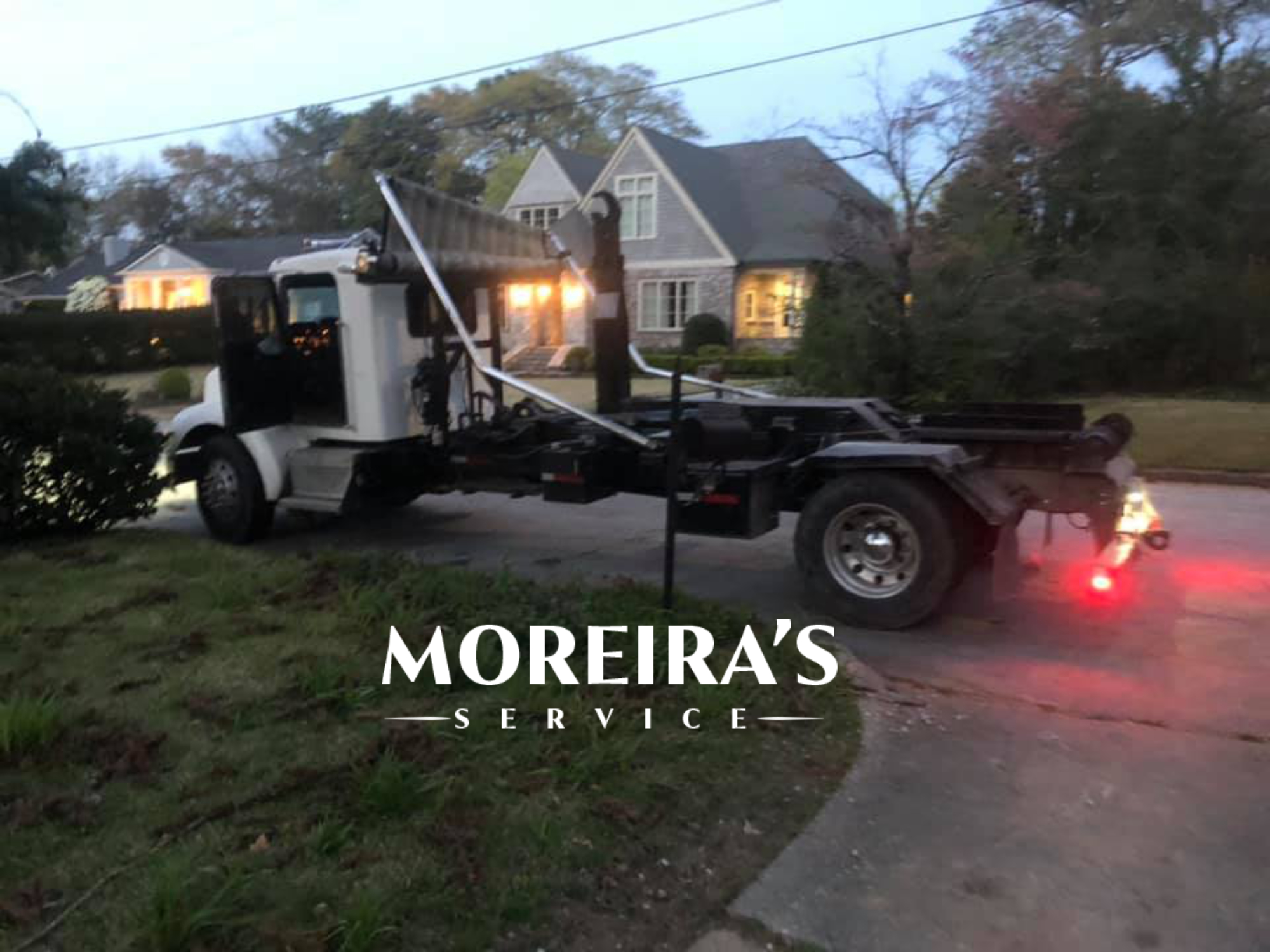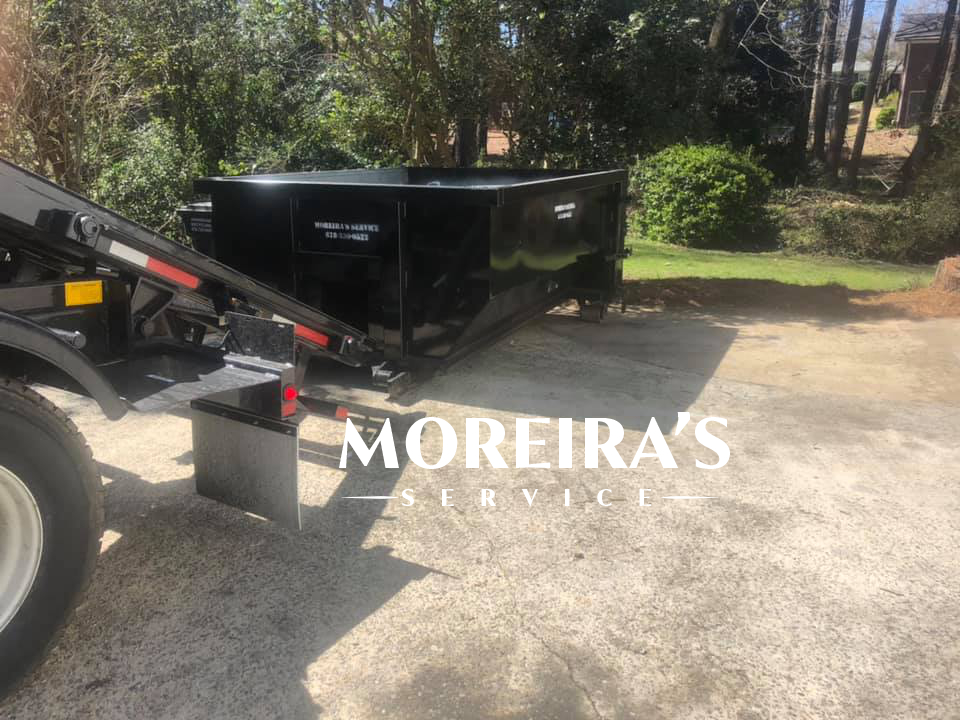 How To Rent A Dumpster in East Point?
Once you have settled on a container size, simply select it, order and book it through our online booking service. If you prefer renting over the phone, contact us at (678) 330-0522 to rent a dumpster in East Point. We usually just need you to give us a few details about the rental dumpster you want and important delivery details. We will deliver your preferred roll-off container to your placement site and wait for your notification so that we can come haul it away.

If you have a private placement area, that can be your yard or driveway, you definitely do not need a dumpster permit in order to have a roll off dumpster delivered. However, if you need to use the side of a street as a placement area, you might need to apply for a dumpster permit before getting a rental dumpster. You can get a dumpster permit from the local office.

Contact Moreira's Service to get a same or next day dumpster rental in East Point.

The East Point Dumpster Rental Company You Can Rely On
Our goal is to remain the East Point dumpster rental company you can rely on for construction, residential and commercial dumpsters. We strive to provide affordable roll off rentals that are accessible to every homeowner or business in East Point. Contact us to find out about our flexible rental terms and our dumpster options. We also have dumpster rentals in Forest Park, GA.

Unleash the Spirit of Adventure in East Point GA
Welcome to East Point, GA, a city brimming with exciting opportunities for exploration and entertainment. Get ready to embark on a journey filled with diverse activities that will captivate your senses and leave you with lasting memories.

Discover East Point's vibrant arts scene by visiting the East Point Corner Tavern, a local hotspot where you can enjoy live music performances and delicious pub fare. Don't miss the East Point Historical Society and Museum, where you can delve into the city's rich heritage through captivating exhibits and engaging stories. Immerse yourself in the local culture and witness the creative spirit that thrives in East Point.


Unveiling Treasures: Landmarks, History, and Natural Beauty of East Point, Georgia
Embrace East Point's Historical Legacy: Explore the historic downtown district, where you'll find charming landmarks like the East Point First Baptist Church, a beautiful testament to the city's architectural heritage. Pay a visit to the East Point Train Depot, an iconic landmark that stands as a reminder of East Point's past as a bustling railroad town. Step back in time and appreciate the historical significance of these cherished sites.

Discover Tranquility in Nature: Escape to the natural beauty of East Point's parks and green spaces. Sykes Park offers a serene retreat with walking trails, picnic areas, and a scenic lake where you can relax and enjoy the peaceful surroundings. For an outdoor adventure, visit the historic Fort McPherson, now known as Lee + White, which features a vast outdoor market and a lively atmosphere. Immerse yourself in the lush landscapes and rejuvenate your spirit amidst East Point's natural splendor.


Gastronomic Delights, Educational Empowerment, and Spiritual Connections in East Point
Savor Culinary Delights: East Point boasts a diverse culinary scene that will tantalize your taste buds. Indulge in southern comfort food at South of Philly or experience global flavors at Thumbs Up Diner, where hearty breakfast options await. Don't forget to explore the vibrant food truck scene at The Spindle Kitchen, which offers a variety of gourmet delights. Treat yourself to a gastronomic adventure and discover the unique flavors that East Point has to offer.

Educational Excellence and Spiritual Nourishment: East Point provides quality education through esteemed institutions such as Tri-Cities High School, known for its dedication to academic achievement and artistic programs. Additionally, East Point is home to a variety of churches and spiritual communities that offer a welcoming and inclusive atmosphere. Whether you're seeking a place of worship, spiritual guidance, or a supportive community, you'll find a range of denominations represented in East Point.

East Point, GA, offers a blend of cultural experiences, historical landmarks, natural beauty, culinary delights, quality education, and spiritual connections. So pack your sense of adventure and prepare to create unforgettable memories in this welcoming and vibrant community!