Dumpster Rental Forest Park GA
Renting a dumpster in Forest Park is your best option if you are looking for a guaranteed way to ensure that large amounts of waste and junk is properly and affordably disposed of. And you don't need to be a contractor to get yourself a waste disposal container for a project. You just need to find a good Forest Park dumpster rental company that offers a large selection of dumpster rentals affordably. Moreira's Service offers dependable dumpster rental service in Forest Park, GA. Contact us at (678) 330-0522 to rent a dumpster in Forest Park today.
We Take Just About Everything
Some examples of the junk we haul away include
Refrigerator Disposal

Garbage Removal

Mattress Disposal

Foreclosure Clean Outs
Construction Waste Removal

Yard Waste Removal

Trash Removal

Appliance Removal
Television Disposal & Recycling

Furniture Removal

E-Waste Disposal

Hot Tub Disposal
Rent a Roll-off Dumpster in Forest Park
You can be taken aback by how much waste a seemingly simple DIY cleanout project or home renovation project can produce before it is completed. Finding the right size dumpster for a project is therefore quite important to ensure that all the waste or junk generated can fit inside the container without having to do a second trip. Luckily, if you are looking to rent a roll-off dumpster in Forest Park; you can select one of our low-cost roll-off bins so that you can get the waste or debris inside the container in bits as your project progresses. Moreira's Service is committed to providing reliable dumpster rental services in Forest Park and its environs.

Residential Dumpster Rentals - Most often, when homeowners rent roll-off dumpsters, it usually is for removal of waste or junk from a typical home improvement project that could be anything from; getting rid of yard debris after a storm or shed demolition, a renovation, a demolition, and cleanup projects, just to give a few examples.

We offer varied roll off dumpster sizes ranging from 10-yard to 40-yard roll off rentals that cover most projects whether large or small. While our 10-yard dumpsters and 15-yard dumpsters are most suited to smaller projects that involve removal of not more than 15 cubic yards of waste. These may include projects like DIY cleanouts, renovations and removal of small sized junk items like light furniture. If your project is on a large scale, you can choose one of our 20-yard, 25-yard, 30-yard or 40-yard waste removal dumpsters.

Commercial & Construction Dumpster Rentals - Most roofing projects and other construction projects often require large dumpsters on site in order to effectively keep track of waste and debris generated. We also have large dumpsters that are ideal for large commercial cleanout and waste removal projects like; rental unit clean ups, storage units' cleanouts, foreclosures and other real estate cleanup and junk removal projects. Whatever you need disposed of, we've got the rental dumpster for it.
Forest Park Dumpster Rental Sizes
It is quite important to choose the right size roll-off container for your project, because you do not want to either underestimate or overestimate how much waste you will need to dispose of. If you are renting a dumpster in Forest Park and find that you are unsure of the right size roll off rental for your project, talk to our representatives and they will assist you find the most suitable Forest Park dumpster rental size based on an estimation of the scale of your project.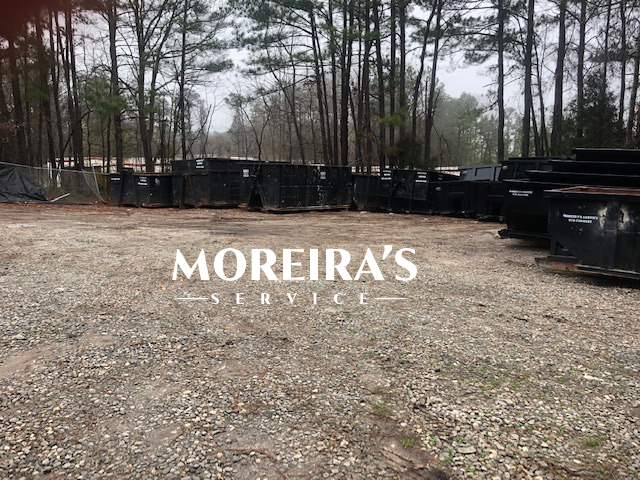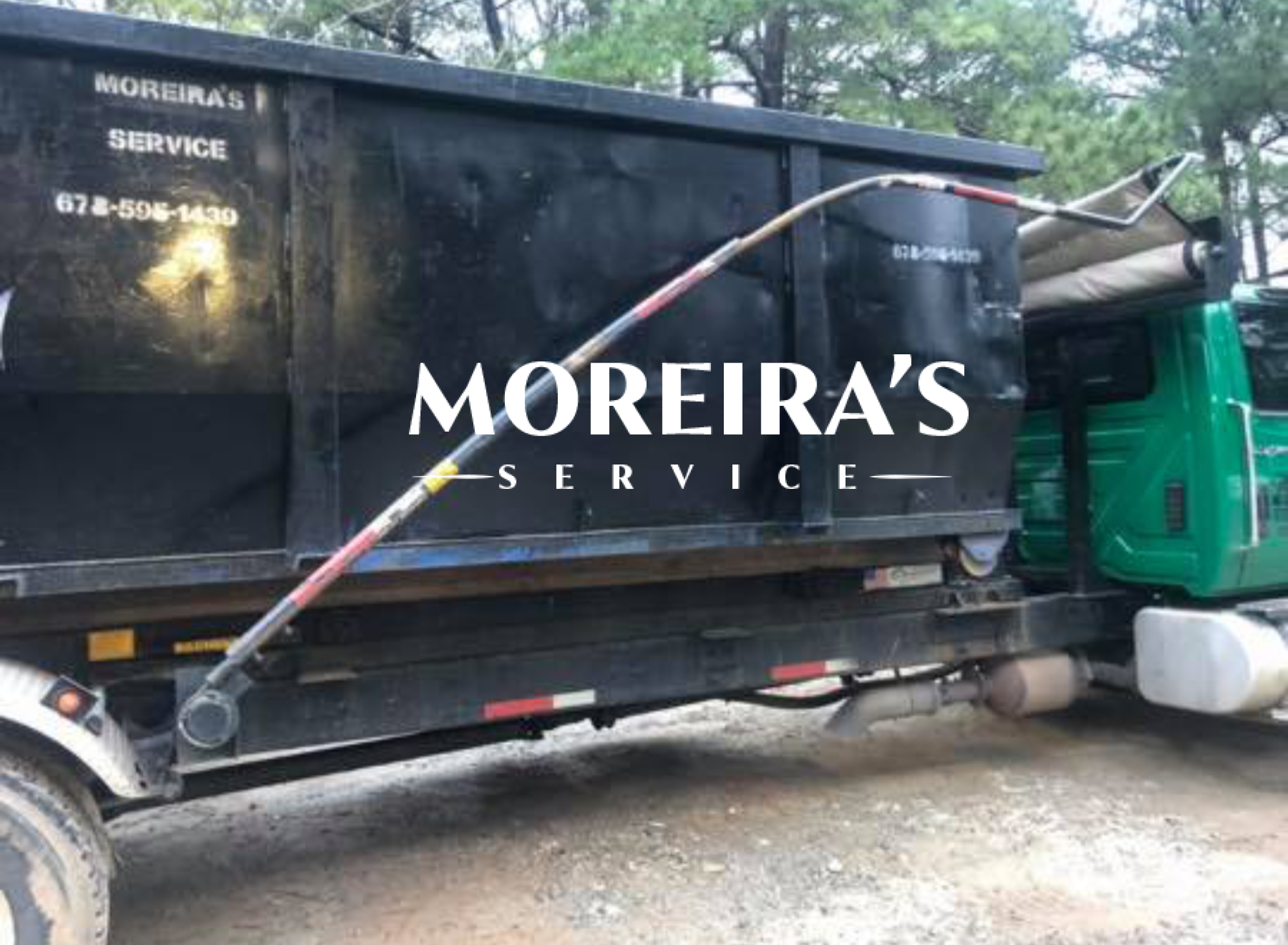 How To Rent A Dumpster in Forest Park?
Check our website to see all the dumpster options we have available and rent a dumpster in Forest Park through our online booking service. You can also give us a call at (678) 330-0522 to book a rental dumpster if you prefer making your order over the phone. We usually only require a few details from you to confirm your rental period, your location and the placement.

We will deliver your rental dumpster to any location in Forest Park and even beyond. However, if you don't have a private placement area where you can place the container for the period of the rental, you may need to obtain a dumpster permit from the local office before scheduling a delivery, as it is a requirement for you to place it out on the street.

Contact Moreira's Service to get a same or next day dumpster rental in Forest Park.

The Forest Park Dumpster Rental Company You Can Rely On
Our goal is to remain the Forest Park dumpster rental company you can rely on for construction, residential and commercial dumpsters. We strive to provide affordable roll off rentals that are accessible to every homeowner or business in Forest Park. Contact us to find out about our flexible rental terms and our dumpster options. We also have dumpster rentals in Hampton, GA.

Forest Park GA Adventures: Embrace the Thrills
Welcome to Forest Park, GA, where exciting adventures await around every corner. Get ready to embark on a journey filled with fun and discovery as we explore the diverse range of activities Forest Park has to offer!

Forest Park is home to a variety of family-friendly attractions that will delight visitors of all ages. Visit the Fun Spot America Atlanta, an amusement park with thrilling rides, go-karts, and arcade games that promise an action-packed day of excitement. For a dose of outdoor fun, head to Clayton County International Park, where you can enjoy swimming, hiking, fishing, and picnicking in a beautiful natural setting.
Unveil the Hidden Gems of Forest Park, Georgia
Step into the past: Forest Park is rich in history and boasts fascinating landmarks that reflect its heritage. Explore the Stately Oaks Plantation, a beautifully preserved antebellum home that offers guided tours and provides a glimpse into life in the 19th century. Pay a visit to the historic Fort Gillem Army Base, which played a crucial role during World War II and is now a testament to Forest Park's military history.
Culinary Delights and Spiritual Connections in Forest Park
Forest Park is a haven for food enthusiasts, offering a wide array of dining options to satisfy every craving. From soul food to international cuisines, you'll find diverse flavors to tantalize your taste buds. Indulge in comfort food at Southern Pit BBQ, a local favorite known for its mouthwatering smoked meats and homemade sides. For a taste of the international flair, head to El Ranchero Mexican Restaurant, where you can enjoy delicious Mexican cuisine in a vibrant atmosphere.

Forest Park is home to a variety of churches and places of worship that provide solace, community, and spiritual growth. Whether you're seeking a traditional worship experience or a contemporary spiritual community, you'll find a range of options to cater to your spiritual needs.

Forest Park, GA, offers a blend of thrilling adventures, historical landmarks, culinary delights, and spiritual connections. So, pack your sense of curiosity and get ready to create unforgettable memories in this lively and welcoming community!