Hampton Dumpster Rental
Renting a dumpster in Hampton is a sustainable way to dispose of waste efficiently and affordably, no matter what your project is or how big it is. What makes a roll-off container more affordable over other waste disposal options is the fact that even a small 10-yard bin can accommodate significantly large amounts of waste at once. The key thing is to use a reliable local Hampton dumpster rental company. Moreira's Service offers the fastest dumpster rental service in Hampton, GA. Contact us at (678) 330-0522 to rent a dumpster in Hampton today.
We Take Just About Everything
Some examples of the junk we haul away include
Refrigerator Disposal

Garbage Removal

Mattress Disposal

Foreclosure Clean Outs
Construction Waste Removal

Yard Waste Removal

Trash Removal

Appliance Removal
Television Disposal & Recycling

Furniture Removal

E-Waste Disposal

Hot Tub Disposal
Rent a Roll-off Dumpster in Hampton
You are mistaken to think that a roll off dumpster is unaffordable for you. In fact, it has never been more affordable to rent a roll-off dumpster in Hampton as it is now, thanks to availability of various size dumpsters for all projects and at affordable pricing. If you have a DIY home improvement project or even a small junk removal project, you only need to call us to check the small dumpster rentals we have for you and get yourself one for your project. Moreira's Service provides the best dumpster rental services in Hampton and the surrounding areas. We serve contractors, business owners, tenants, homeowners and construction firms in Hampton.

Residential Dumpster Rentals - Before embarking on doing a home improvement project, get yourself a roll-off dumpster if you want a fast and easy waste removal experience. We provide different size roll off bins to cater for all types of home renovation projects. Some of the projects our containers are regularly rented for include; roofing replacement project, deck removal projects, drywall replacement projects, yard maintenance projects and cleanup projects.

We offer up to five roll off dumpster sizes in Hampton and the surrounding areas. Whether you need a small or large waste dumpster for your project, you can select from our variety of roll off rentals which include; 10-yard dumpsters, 15-yard dumpsters, 20-yard dumpsters, 25-yard dumpsters, 30-yard dumpsters and 40-yard dumpsters. Our rental dumpsters are often rented by homeowners with both small DIY projects and large construction, renovation of home addition projects.

Commercial & Construction Dumpster Rentals - When you need a reliable rental dumpster for your commercial waste removal or junk removal project, simply give us a call and we will deliver it to your location in no time. We are the leading dumpster rental company providing large dumpster rentals for both construction use and disposal of commercial waste from projects such as estate cleanouts. Our large dumpsters are designed to accommodate heavy waste and debris that weights up to 7 tons.
Hampton Dumpster Rental Sizes
When renting a dumpster in Hampton, knowing how to choose the right size dumpster for a project gets you value for your money. The best size dumpster is one that can accommodate all the waste or junk you need to get rid of without the need for a second dumpster. While renting a slightly larger dumpster than you need is generally not too bad, it makes no sense to spend money on a 30-yard or 40-yard dumpster for a project that only requires a 15-yard dumpster. If unsure, contact us and our representatives who have been renting out the various Hampton dumpster rental sizes for years will point you in the right direction.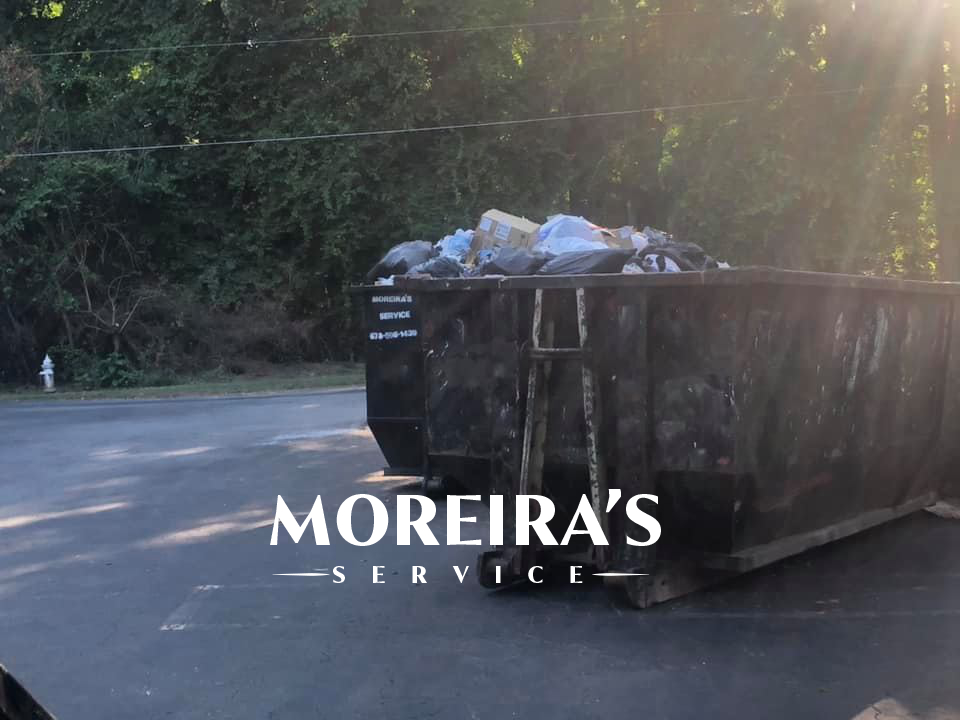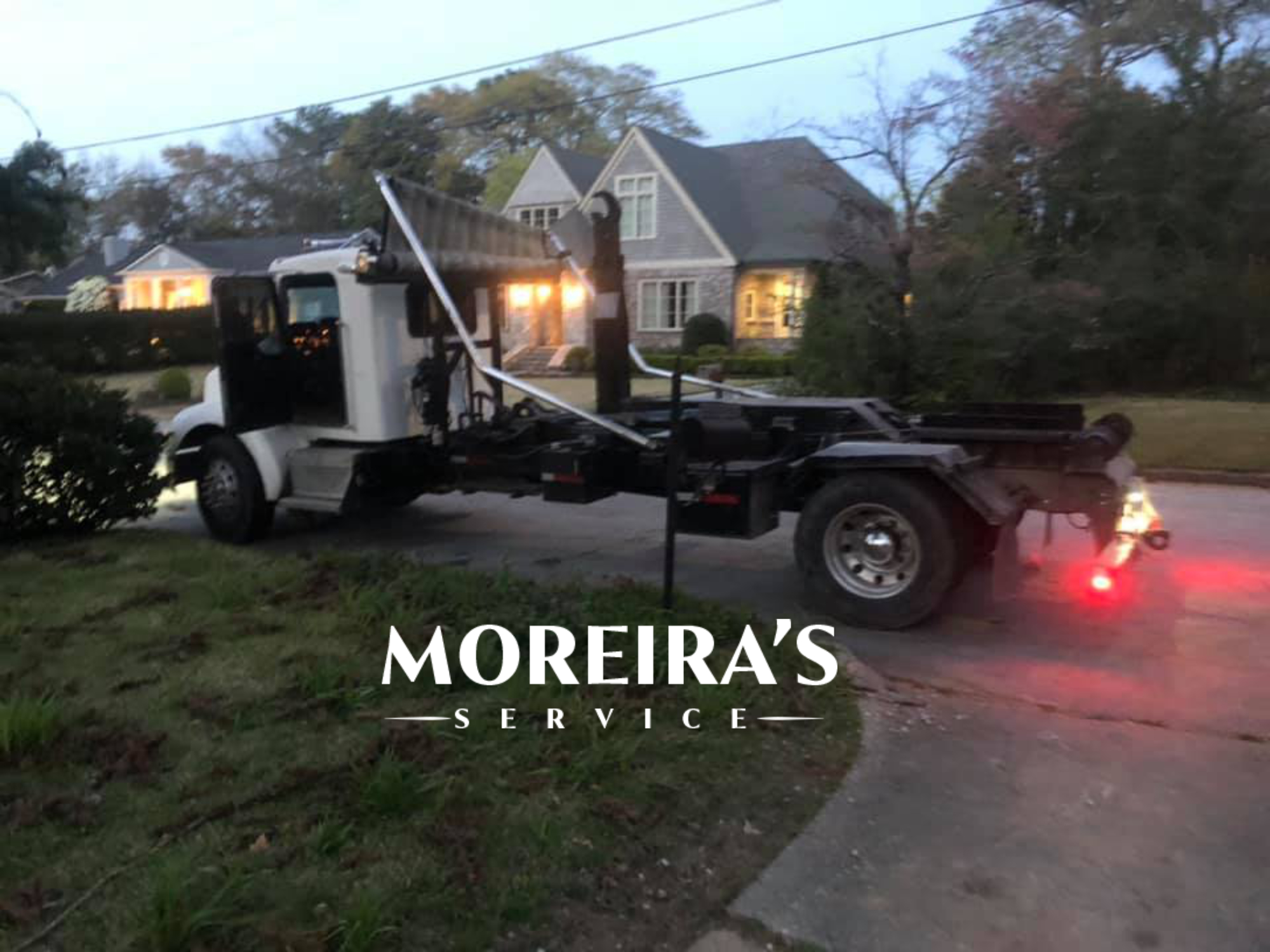 How To Rent A Dumpster in Hampton?
When you need a waste dumpster, you can simply call us at (678) 330-0522 or use our online booking service to rent a dumpster in Hampton. Make sure that the container you select suits your project before making and order and scheduling a delivery. If you are not sure how to make an estimation, call us directly and we guarantee that one of our representatives will help you find the ideal container for your project, based on the information you give.

If you do not have access to a private space where you can park your container after delivery, you might need to first apply for a permit from the local office, so that you can park it next to a public street or other 'public-right-of-way' area. This is usually a requirement for many areas in the city. Contact us if you need more information about obtaining a dumpster permit.

Contact Moreira's Service to get a same or next day dumpster rental in Hampton.

The Hampton Dumpster Rental Company You Can Rely On
Our goal is to remain the Hampton dumpster rental company you can rely on for construction, residential and commercial dumpsters. We strive to provide affordable roll off rentals that are accessible to every homeowner or business in Hampton. Contact us to find out about our flexible rental terms and our dumpster options. We also have dumpster rentals in McDonough, GA.

Things to Do in Hampton GA: Fun-filled Adventures Await!
Embark on exciting outdoor adventures and immerse yourself in the natural beauty of Hampton, GA. Discover the tranquil oases of Hampton's parks. J. P. Moseley Park is a haven for nature enthusiasts, offering picturesque trails for hiking, peaceful picnic areas, and a serene lake for relaxation. Breathe in the fresh air, take in the scenic views, and connect with the beauty of the outdoors. Whether you enjoy leisurely walks or active pursuits, Hampton's parks provide the perfect setting for outdoor enjoyment.
Uncover the History of Hampton, Georgia
Delve into Hampton's fascinating history and uncover its rich heritage through notable landmarks and historical sites. Step into the past at the Hampton Depot Museum, a remarkable landmark that showcases the town's history. Explore captivating exhibits and artifacts that depict the journey of Hampton, from its early beginnings to significant milestones. Gain insights into the local heritage and the lives of those who shaped the town. Let the past come alive as you uncover the stories woven into Hampton's historical tapestry.
Enjoy Culinary Delights and Community Warmth
Satisfy your cravings at Hampton's top-notch restaurants. From the mouthwatering flavors of Daddy Sam's Bar-B-Que, where you can indulge in succulent smoked meats and classic Southern sides, to the exotic delights of Thai Jasmine Restaurant, where authentic Thai cuisine will transport you to the streets of Thailand, Hampton offers a range of culinary experiences to delight your palate.

Experience the genuine sense of community in Hampton. Connect with others and foster meaningful relationships at welcoming churches like Hampton United Methodist Church. Engage in worship, community events, and outreach programs that bring people together. Embrace the spirit of togetherness that makes Hampton a close-knit and supportive community.

In conclusion, Hampton, GA, invites you to embark on a journey of outdoor exploration, historical discovery, culinary indulgence, and community connection. Engage with nature, uncover the town's rich heritage, savor delicious flavors, and embrace the warmth of the community. Hampton is a place where adventure meets history and where you can create lasting memories. Come and experience the vibrant spirit of Hampton, GA!