McDonough Dumpster Rental
Renting a dumpster in McDonough is the way to go if you are looking for a convenient and reliable waste disposal solution for any project. Not only is disposing of waste using a dumpster fast and reliable, it is also convenient and affordably, considering the space a roll-off container offers compared to other options. It is however important to get your rental bin from a reputable McDonough dumpster rental company. Moreira's Service offers dependable dumpster rental service in McDonough, GA. Contact us at (678) 330-0522 to rent a dumpster in McDonough today.
We Take Just About Everything
Some examples of the junk we haul away include
Refrigerator Disposal

Garbage Removal

Mattress Disposal

Foreclosure Clean Outs
Construction Waste Removal

Yard Waste Removal

Trash Removal

Appliance Removal
Television Disposal & Recycling

Furniture Removal

E-Waste Disposal

Hot Tub Disposal
Rent a Roll-off Dumpster in McDonough
Contrary to what seems to be a common belief that one needs to be a contractor in order to use a rental dumpster for waste disposal, anyone with waste to dispose of or any size project can rent a roll off dumpster in McDonough now even with just a phone call. We offer varied size dumpsters at affordable rental costs to ensure that dumpsters are widely accessible to all homeowners, businesses and other common renters with regular or one-time projects. Moreira's Service takes pride in providing dumpster rental services that customers in McDonough and the surrounding areas can depend on.

Residential Dumpster Rentals - When you need a residential dumpster rental in McDonough either for a major renovation or even a small DIY project; just give us a call and we'll make arrangements to deliver it to you. The best thing about renting a roll-off dumpster from us is that we not only offer fairly priced containers, we also have very flexible rental terms.

Wondering about the various roll off dumpster sizes we offer customers in McDonough? We have all the standard roll off containers and more for rent. Our roll off rentals include; 10-yard dumpsters, 15-yard dumpsters, 20-yard dumpsters, 25-yard dumpsters, 30-yard dumpsters and 40-yard dumpsters. Whether you are planning to do a new home construction or a small yard maintenance project, we truly got you covered.

Commercial & Construction Dumpster Rentals - If you are looking for either a commercial dumpster rental or a construction dumpster rental here in McDonough, we are your best choice. We provide large dumpster rentals for use in large commercial projects like real estate cleanouts as well as for major roofing and construction projects. No matter how large your project is, either our 30-yard dumpster or 40-yard dumpster will be a perfect fit. We also offer very flexible rental terms for all rental dumpster sizes.
McDonough Dumpster Rental Sizes
Different projects will generate different amounts of waste or debris depending on their scale. This means that when renting a dumpster, you need to choose the right size roll off depending on whether you have a major home addition or renovation project, a junk removal project or a DIY project, for example. We offer various McDonough dumpster rental sizes you can choose from, and if you are unsure about which container to select, our representatives are here to guide you. Just give us a call.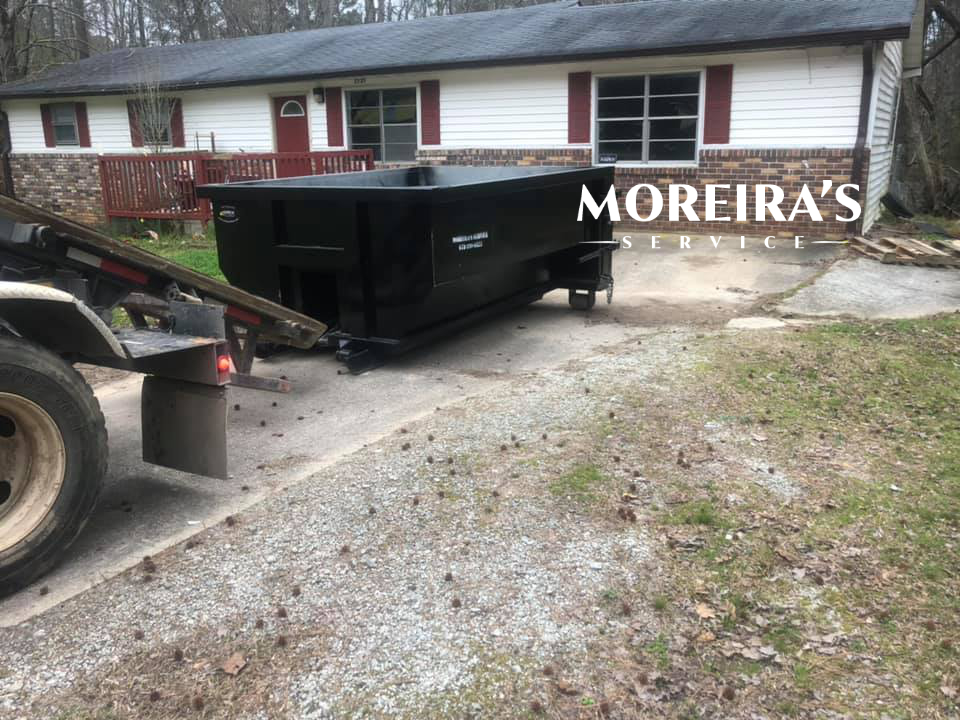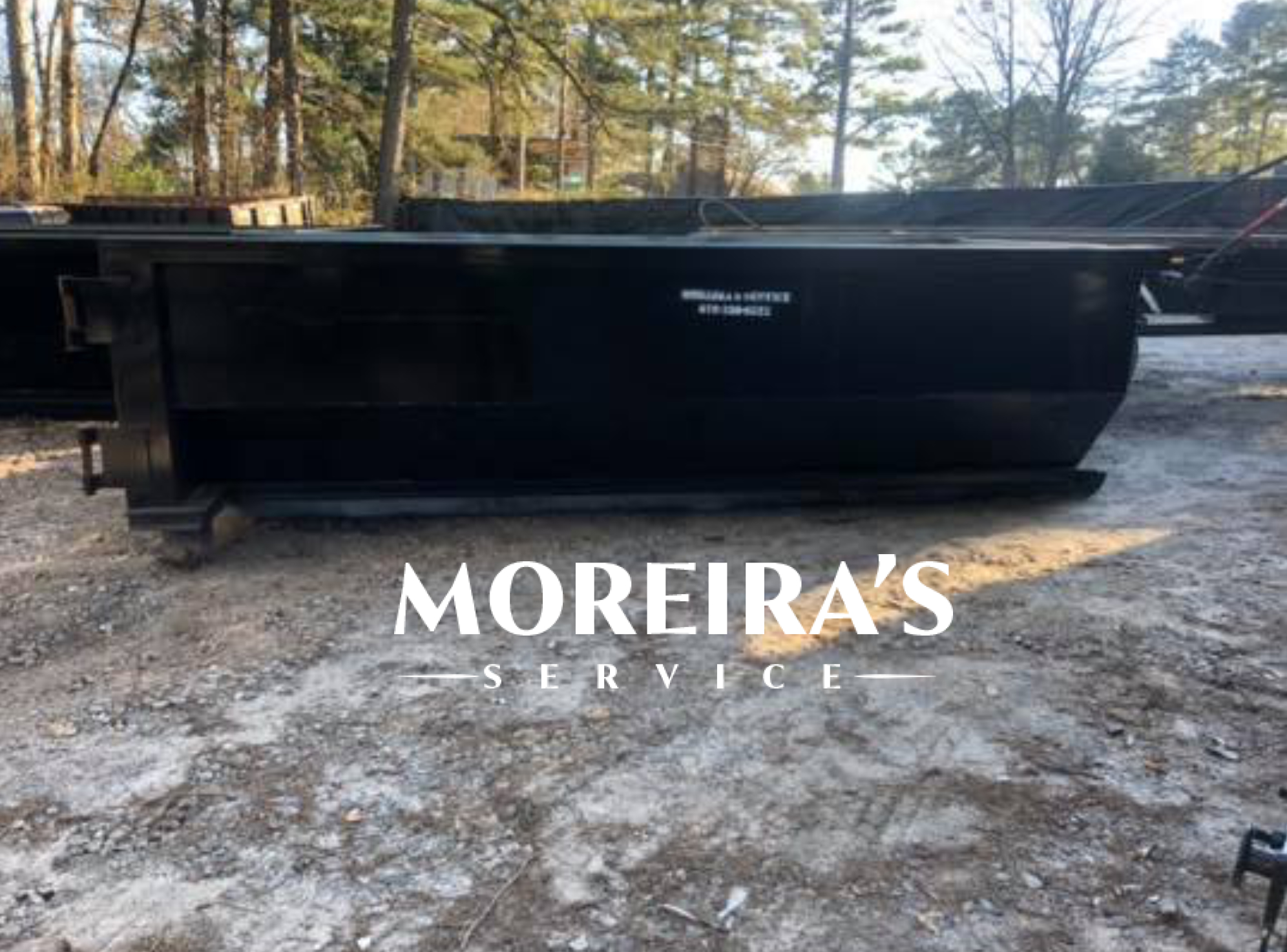 How To Rent A Dumpster in McDonough?
When you need to rent a dumpster in McDonough, first visit our website and check the available dumpster rental options and then select one that fits your project. Alternatively, you can also call us at (678) 330-0522 to rent a dumpster or ask for any additional information. We offer next day and same day dumpster service in McDonough and nearby areas. Please ensure that your delivery details are correct before scheduling a delivery.

In most cases, authorities in McDonough require renters to have dumpster permits if they will be parking their rental dumpsters out on the street or other public spaces. Renters with private placement areas do not generally require dumpster permits. You can obtain the permit from the local office.

Contact Moreira's Service to get a same or next day dumpster rental in McDonough.

The McDonough Dumpster Rental Company You Can Rely On
Our goal is to remain the McDonough dumpster rental company you can rely on for construction, residential and commercial dumpsters. We strive to provide affordable roll off rentals that are accessible to every homeowner or business in McDonough. Contact us to find out about our flexible rental terms and our dumpster options. We also have dumpster rentals in Union City, GA.

Discover McDonough GA: A Perfect Blend of Heritage, Recreation, and Flavor
Welcome to McDonough, GA, where delightful experiences await around every corner. Whether you're a history enthusiast, nature lover, or foodie, McDonough offers a range of activities to suit every interest.

Start your adventure by exploring the fascinating history of the city. Visit the McDonough Welcome Center and Historical Society, where you can delve into the town's past through exhibits and artifacts. Learn about the pioneers who shaped the community and gain a deeper appreciation for McDonough's heritage.

For outdoor enthusiasts, a visit to Heritage Park is a must. This sprawling green oasis boasts walking trails, picnic areas, and even a serene lake where you can enjoy fishing or simply soak in the tranquil surroundings. Take a leisurely stroll, breathe in the fresh air, and let nature rejuvenate your spirit.

When it's time to satisfy your taste buds, McDonough's top restaurants won't disappoint. Enjoy a delightful dining experience at places like KirbyG's Diner, known for its mouthwatering burgers and nostalgic ambiance, or Pasta Max Cafe, where you can savor authentic Italian cuisine made with love and passion. From hearty comfort food to international flavors, McDonough has something to please every palate.
Immerse Yourself in the History of McDonough, Georgia
McDonough is a town steeped in history, and its landmarks serve as windows into the past. Pay a visit to McDonough Square, the heart of the city, and admire the historic buildings that line its charming streets. Take a moment to appreciate the McDonough Courthouse, a stunning architectural gem that stands as a testament to the city's rich heritage.

Another significant landmark is the Nash Farm Battlefield, which preserves the site of a pivotal Civil War battle. Walk in the footsteps of soldiers and gain insights into the region's role during this tumultuous period of American history. The preserved structures and interpretive exhibits offer a poignant reminder of the sacrifices made by those who came before us.
Find Community and Spirituality in McDonough
McDonough takes pride in its educational institutions, offering students a nurturing environment for learning and growth. Schools like Union Grove High School, Ola Middle School, and Tussahaw Elementary School are dedicated to academic excellence and shaping future leaders. Families can rest assured that their children are receiving a quality education in McDonough.

Spirituality is cherished in McDonough, with numerous churches serving as pillars of the community. From McDonough First United Methodist Church, with its welcoming congregation and impactful community outreach programs, to Eagles Landing First Baptist Church, offering a vibrant worship experience and a strong sense of fellowship, you'll find a spiritual home that embraces and supports you.

To enjoy the outdoors, head to Alexander Park, a family-friendly destination boasting sports fields, playgrounds, and scenic walking trails. It's the perfect spot for picnics, sports activities, or simply unwinding amidst the beauty of nature.

In conclusion, McDonough, GA, combines history, outdoor recreation, culinary delights, excellent schools, and a strong sense of community. Immerse yourself in the rich heritage of the town, indulge in delicious flavors at local restaurants, and explore the landmarks that bear witness to McDonough's past. Celebrate the city's educational institutions and find spiritual solace in its churches. McDonough eagerly invites you to create unforgettable memories and become a part of its warm and vibrant community.