Union City Dumpster Rental
Renting a dumpster in Union City is definitely the waste disposal option for anyone who is keen on disposing of trash or junk fast, reliably and in a convenient way. The important thing is to work with a reliable Union City dumpster rental company that you can depend on. With so much more space to offer, a roll off container is the waste removal way to go, especially if you have a big project going on. Moreira's Service offers fast and affordable dumpster rental services in Union City, GA. Contact us at (678) 330-0522 to rent a dumpster in Union City today.

We Take Just About Everything
Some examples of the junk we haul away include
Refrigerator Disposal

Garbage Removal

Mattress Disposal

Foreclosure Clean Outs
Construction Waste Removal

Yard Waste Removal

Trash Removal

Appliance Removal
Television Disposal & Recycling

Furniture Removal

E-Waste Disposal

Hot Tub Disposal
Rent a Roll-off Dumpster in Union City
It is common knowledge to rent a dumpster for a large construction project or even for removal and hauling of large junk items like old furniture. However, many people are still unaware that there are so many projects they can rent a roll-off dumpster in Union City for without spending too much money. We offer very competitive pricing for the wide variety of different size dumpsters that we offer for rent. Moreira's Service is a dumpster rental service that actually takes pride in providing affordable waste management dumpsters all over Union City and beyond.

Residential Dumpster Rentals - Have a residential project coming up soon? If it requires getting a roll-off dumpster, it is best to plan ahead and schedule for it to be delivered before you begin your project. This way, you will be able to dump the waste directly in the dumpster, in bits rather than having to pile it in heaps before transferring it to the dumpster.

Moreira's Service offers all the standard roll off dumpster sizes available for regular and even major projects. Whatever the size of your project, we guarantee that one of our dumpster rentals which include; 10-yard dumpsters, 15-yard dumpsters, 20-yard dumpsters, 25-yard dumpsters, 30-yard dumpsters and extra large 40-yard dumpsters will be a perfect fit. There is no home improvement project that will phase us.

Commercial & Construction Dumpster Rentals - Need a large dumpster on site that can be delivered and hauled away all with a phone call? Moreira's Service is the absolute leader in Union City and all the surrounding areas for large dumpster rentals that are perfect for use in removal of waste and debris from large construction sites and Major commercial cleanout and junk removal projects. Get a 40-yard rental dumpster at an affordable price today.
Union City Dumpster Rental Sizes
If you approximate the scale of your project properly, you will be in a better position to choose the right size container from available Union City dumpster rental sizes. The right container is the one that will fit all of your garbage, waste or junk in one haul and won't require you to rent a second dumpster. You also definitely don't need to rent a 30-yard dumpster for a project that only requires a 10-yard dumpster. These are some key things to know when renting a dumpster in Union City.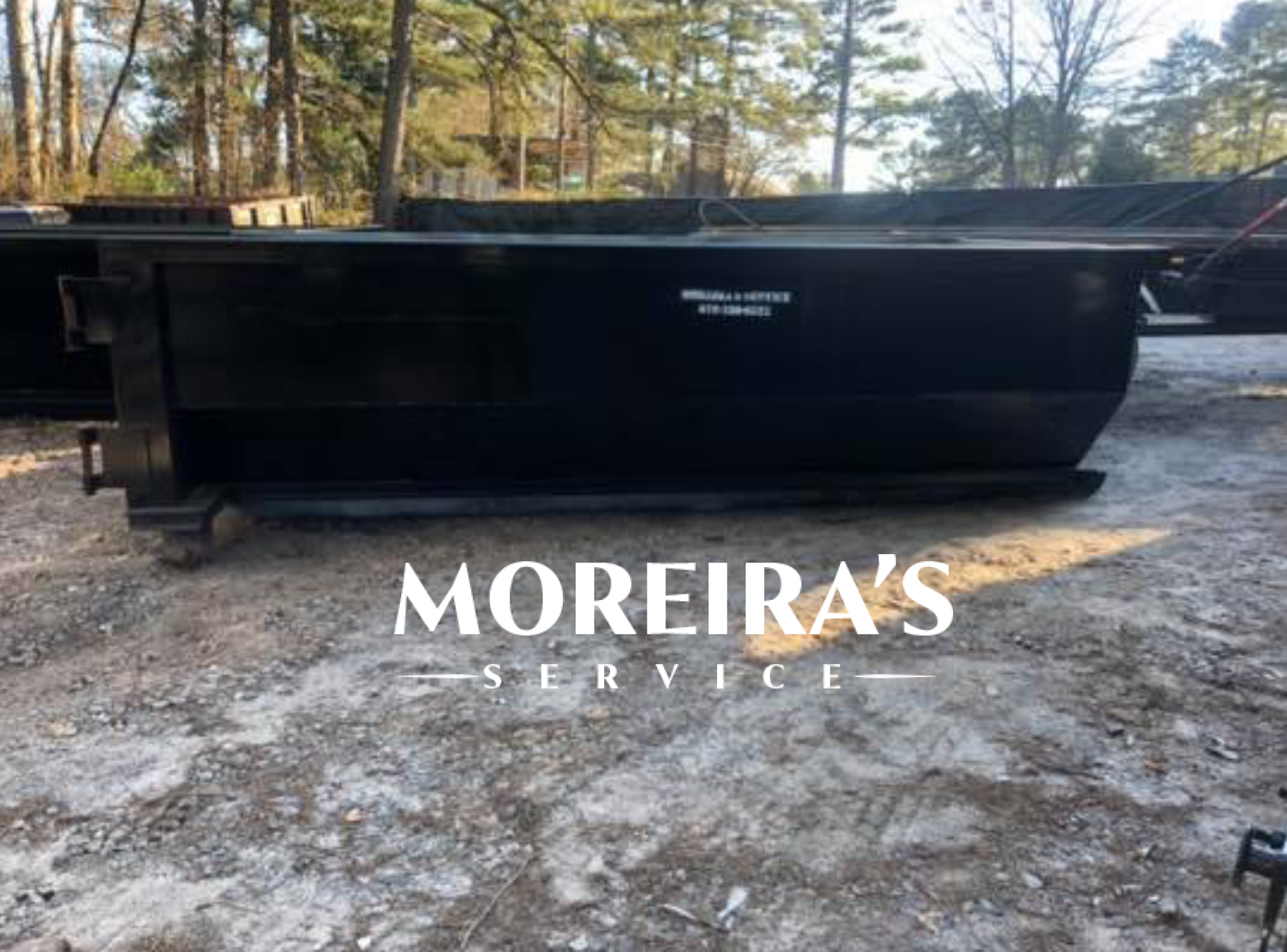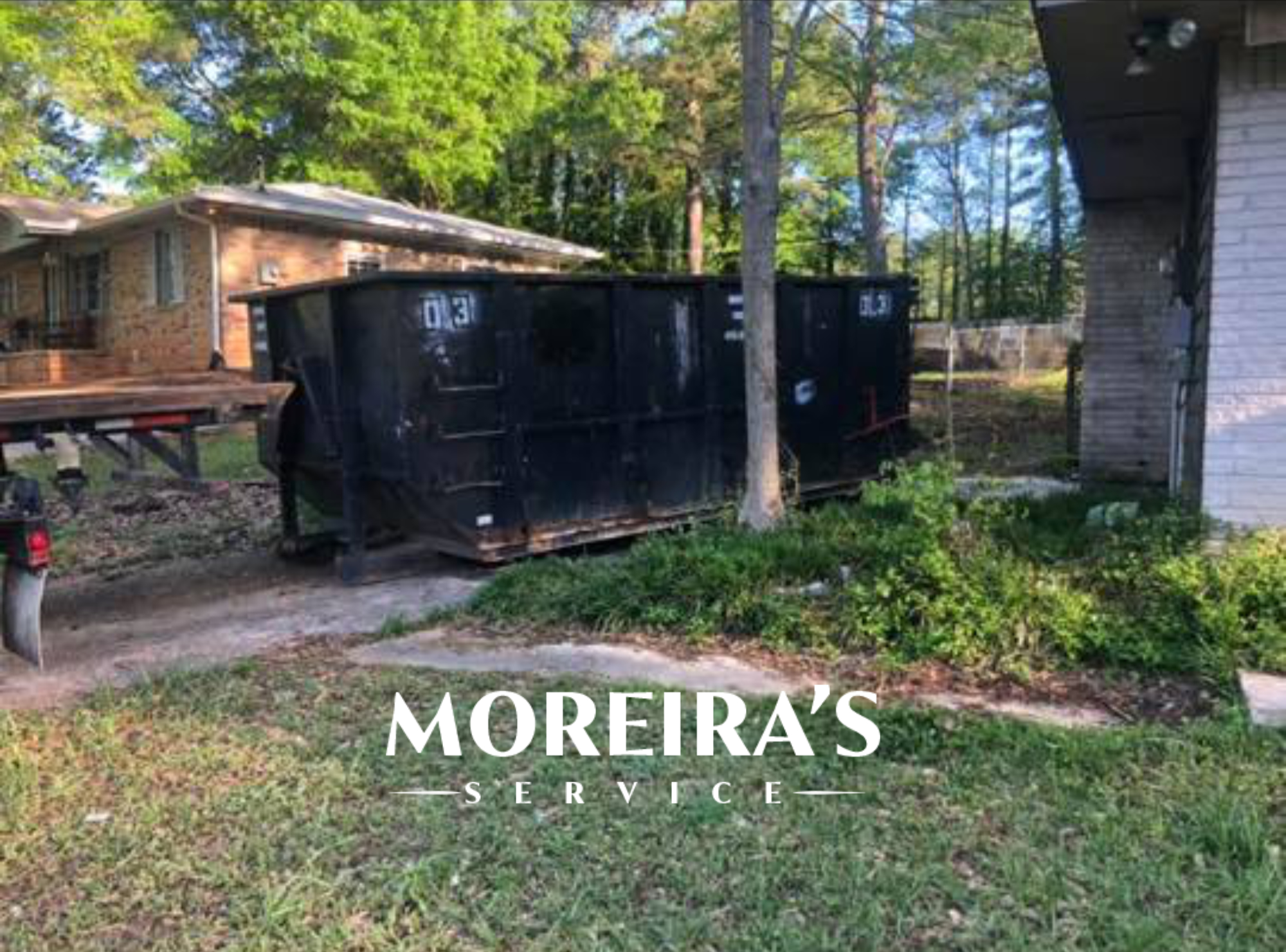 How To Rent A Dumpster in Union City?
Renting a dumpster from Moreira's Service is simple and straightforward and only requires you to have a phone or an internet connection. Call us at (678) 330-0522 to quickly rent a dumpster in Union City or use our online booking service to make an order. Once you have paid for the container you need, make sure that you have confirmed the delivery details before scheduling a delivery.

If you are wondering whether or not you will need to get a dumpster permit in order to rent a dumpster, please note that this depends on where you intend to park it. If you are going to place the container out on the street, they most likely need a dumpster permit. You don't need a dumpster permit to place a dumpster in your driveway or yard.

Contact Moreira's Service to get a same or next day dumpster rental in Union City.

The Union City Dumpster Rental Company You Can Rely On
Our goal is to remain the Union City dumpster rental company you can rely on for construction, residential and commercial dumpsters. We strive to provide affordable roll off rentals that are accessible to every homeowner or business in Union City. Contact us to find out about our flexible rental terms and our dumpster options. We also have dumpster rentals in East Point, GA.

Union City GA: Where Thrills Unfold
Welcome to Union City, GA, a city brimming with exciting opportunities for all. Whether you're seeking outdoor adventures, cultural experiences, or family-friendly entertainment, Union City has something to offer everyone.

Discover the excitement of Fun Spot America Atlanta, an amusement park that promises thrilling rides, arcade games, and go-karting. Create unforgettable memories as you immerse yourself in the excitement and laughter that fill the air.

For nature enthusiasts, explore Ronald Bridges Park, a serene oasis that boasts walking trails, picnic areas, and beautiful green spaces. Take a leisurely stroll, enjoy a peaceful picnic with loved ones, or simply bask in the tranquility of nature.
Landmarks of Union City's Past
Union City is a city proud of its heritage, and its landmarks serve as windows into its captivating past. Begin your journey at the Historic Downtown Union City, where you can explore charming historic buildings and gain a sense of the town's history and cultural significance. Take a leisurely walk and admire the architectural beauty that reflects Union City's rich heritage.

Another notable landmark is the Union City Train Depot, a beautifully restored train station that stands as a reminder of the town's transportation history. Step inside and imagine the bustling activity that once filled the station, connecting Union City to the world.


Creating Community in Union City, Georgia
Union City embraces a strong sense of community, offering a variety of establishments that nurture connections and foster growth.

Indulge in culinary delights at top restaurants like Black Kettle Cafe, known for its delicious Southern comfort food, or Bambinelli's Italian Restaurant, where you can savor authentic Italian cuisine. From soulful flavors to international specialties, Union City's restaurants offer a diverse range of culinary experiences.

Education is highly valued in Union City, with schools dedicated to providing quality education. Institutions such as Creekside High School, Bear Creek Middle School, and Gullatt Elementary School prioritize academic excellence and provide students with a supportive environment to learn and thrive.

For spiritual nourishment, Union City offers a range of churches that provide a place of worship and community support. From New Hope AME Church to Mount Olive Baptist Church, you'll find welcoming congregations that foster a sense of belonging and offer opportunities for spiritual growth.

Union City, GA, invites you to embark on thrilling adventures, uncover its rich heritage, and connect with the warmth of its community. Engage in exciting activities, explore the city's landmarks that reflect its history, and savor the flavors offered by its top restaurants. Benefit from the educational opportunities provided by Union City's schools and find solace and connection in its churches. Union City eagerly awaits your visit, ready to create lasting memories and offer a sense of belonging.