Atlanta Dumpster Rental
Renting a dumpster in Atlanta is one of those guaranteed ways that contractors and even homeowners with substantial waste to dispose of, frequently use to get unwanted waste to the dumps. However, the only way to ensure that you get value for your money when you rent a dumpster, is to get a unit from a professional Atlanta dumpster rental provider. Moreira's Service offers very reliable dumpster rental service in Atlanta, GA. Call (678) 330-0522 to rent a dumpster in Atlanta today.
We Take Just About Everything
Some examples of the junk we haul away include
Refrigerator Disposal

Garbage Removal

Mattress Disposal

Foreclosure Clean Outs
Construction Waste Removal

Yard Waste Removal

Trash Removal

Appliance Removal
Television Disposal & Recycling

Furniture Removal

E-Waste Disposal

Hot Tub Disposal
Rent a Roll-off Dumpster in Atlanta
You don't need to be a large contractor or to have a major commercial waste disposal project in order to rent a roll-off dumpster in Atlanta, because small and medium size dumpsters are also available at affordable dumpster rental prices. We have a wide range of dumpster options for our customers to choose from depending on what type of projects they have. We also offer same or next day delivery if you reserve a dumpster before noon, so just let us know if you have an emergency waste removal project. Moreira's Service is proud of being a leading local dumpster rental service, serving homeowners and commercial renters in Atlanta and all nearby areas.

Residential Dumpster Rentals - You can now rent a roll-off dumpster for any home improvement project, provided that the waste you want to dispose of is non-hazardous and can be properly disposed of in a landfill. We have various dumpster options and you cannot miss a dumpster size that will be a perfect fit for your waste disposal project.

Whether you need a large rental dumpster or a small roll-off container; we guarantee that we have a roomy dumpster in the right size that will accommodate all your waste, no matter how big or small your project is. Our roll off dumpster sizes in Atlanta include; small 10- cubic yard and 15-cubic yard dumpster rentals, medium size 20-yard and 25-yard dumpster rentals as well as large 30-yard and 40-yard dumpster rentals. When you need a commercial or residential dumpster delivered; remember that we've got you covered.

Commercial & Construction Dumpster Rentals - Are you specifically looking for a large dumpster rental near you in Atlanta, GA? At Moreira's Service; we are proud to say that we are the go to dumpster rental provider, when it comes to large dumpsters, medium and small dumpster rentals. We service roofing contractors and general contractors, construction companies with large construction site clean-ups and businesses with various types of commercial waste disposal projects. Just call us and let us know what your needs are, the size of the rental dumpster you need, and when you need us to deliver it.

Atlanta Dumpster Rental Sizes
When you have a wide variety of Atlanta dumpster rental sizes to choose form; it is normal especially as a new renter to feel overwhelmed as it regards the right size dumpster for your specific project, with no prior experience. When renting a dumpster in Atlanta, always remember that we have dumpster rental experts on our team, who will be happy to help you figure out the right size roll off container depending on the scale of your project. Give us a call.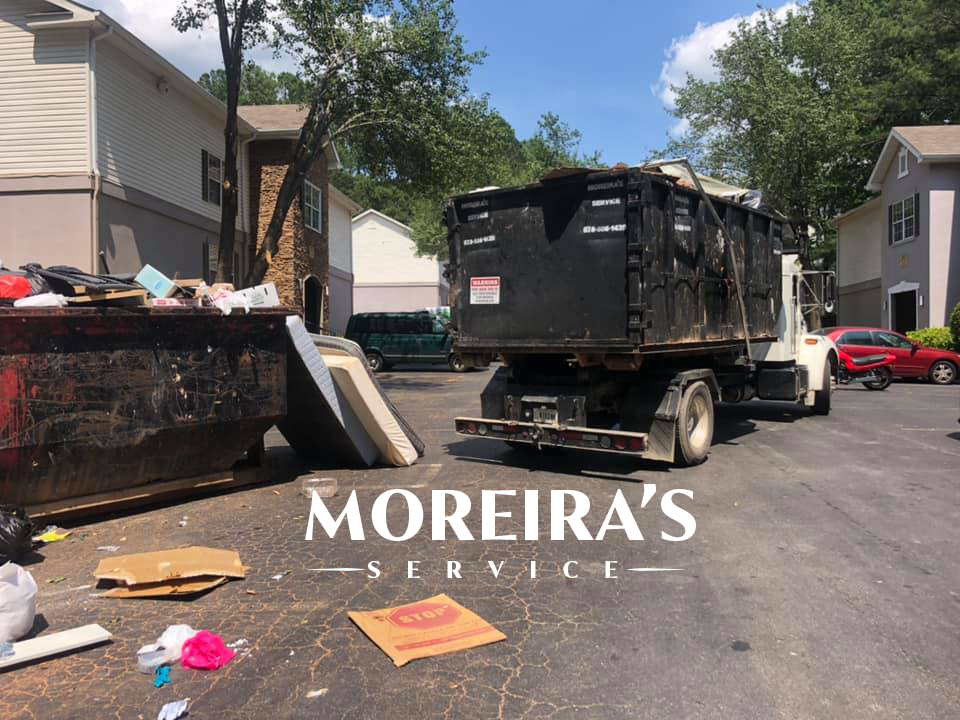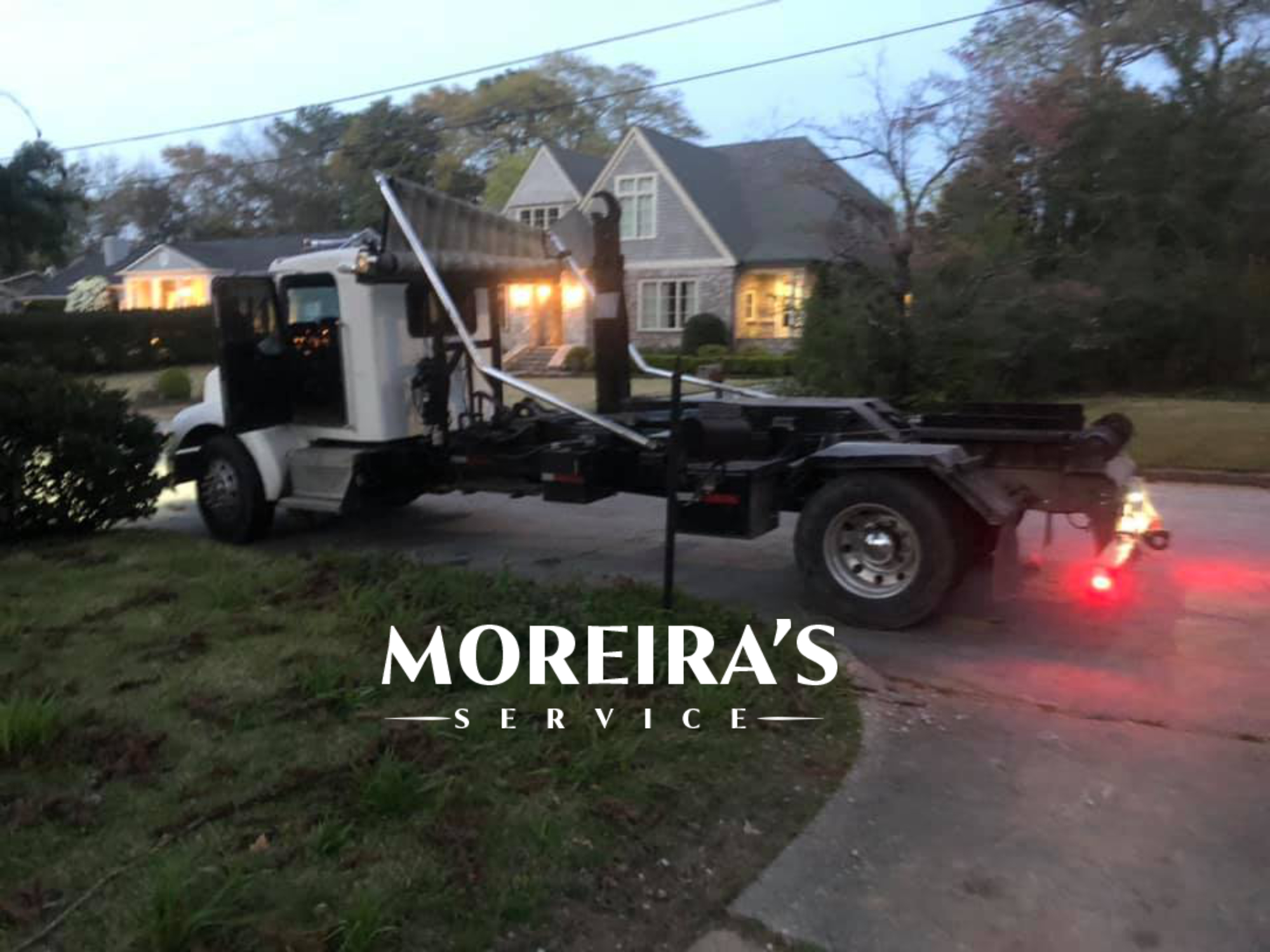 How To Rent A Dumpster in Atlanta?
Once you have planned your waste removal schedule, it is time to rent a dumpster in Atlanta, ensuring that you have scheduled for your roll off container to be delivered right before you begin your project. You can order a rental dumpster online through our website or you can call us at (678) 330-0522 to rent a roll-off dumpster in Atlanta at any time.

If you live in an area of the city without access to a private placement area for a roll-off container; you can use the side of a street as a placement site for your dumpster. However, to use any 'public-right-of-way' area as a placement site for your dumpster; you have to have a dumpster permit, which you will normally get with ease from the local office.

Moreira's Service offers the best dumpster rental prices in Atlanta, GA.

A Reliable Atlanta Dumpster Rental Company Near You
When you need a roll-off dumpster rental for your home, business or job site; Moreira's Service is your best option. We provide all size dumpster options for construction, commercial and residential waste disposal and all our dumpster options are accessible at the most flexible rental terms. We are a reliable dumpster rental company near you in Atlanta. We also have dumpster rentals in Marietta, GA.

Embark on Unforgettable Adventures in Atlanta, GA
Welcome to Atlanta, GA, where the possibilities for adventure are endless. This vibrant city offers a plethora of activities to suit every interest. Let's dive into the exciting things you can do during your visit!

If you're a fan of history and culture, visiting the Martin Luther King Jr. National Historic Site is a must. Explore the birth home of Dr. Martin Luther King Jr., visit the iconic Ebenezer Baptist Church, and walk in the footsteps of this influential civil rights leader. It's a powerful experience that offers a deep insight into the rich history of Atlanta.

For sports enthusiasts, catching a game at the world-renowned Mercedes-Benz Stadium is a must-do. Whether cheering on the Atlanta Falcons or Atlanta United FC, the electric atmosphere and state-of-the-art facilities will make for an unforgettable experience. Get ready to immerse yourself in the excitement of live sports action!


Architectural Gems and Natural Retreats in Atlanta, Georgia
Atlanta's remarkable landmarks and lush landscapes perfectly capture its charm. Be prepared to be mesmerized by the magnificent Fox Theatre, an architectural masterpiece that will transport you to a world of grandeur and opulence. Marvel at its intricate details and immerse yourself in the stories of Atlanta's vibrant cultural heritage during a captivating show or a guided tour.

For a serene escape, nature enthusiasts will find solace in the embrace of Piedmont Park. This sprawling urban oasis beckons with its tranquil walking trails, serene lakes, and enchanting gardens. Leave the city's hustle and bustle behind as you indulge in a leisurely picnic or engage in a friendly game of frisbee with loved ones. Piedmont Park is a sanctuary where the beauty of nature unfolds amidst Atlanta's vibrant energy.


Nourishing Mind, Body, and Soul: The Best Restaurants, Schools, and Churches in Atlanta
Atlanta is a haven for food lovers, with a thriving culinary scene that caters to every palate. From soul food and barbecue joints to upscale dining and international cuisine, you'll find a plethora of options to tantalize your taste buds. Don't miss the opportunity to try local favorites like Mary Mac's Tea Room for a true Southern dining experience.

For families moving to Atlanta, rest assured that the city offers excellent schools. Atlanta Public Schools and Fulton County Schools are known for their commitment to academic excellence and providing a nurturing environment for students to thrive.

Atlanta is also home to a diverse array of churches representing different faiths and denominations. Whether you're seeking a traditional place of worship or a contemporary spiritual community, you'll find a variety of options to choose from.

Atlanta, GA, is a city that seamlessly blends history, culture, outdoor beauty, culinary delights, quality education, and spiritual nourishment. So get ready to immerse yourself in the vibrant atmosphere and create unforgettable memories in the heart of the South!