Peachtree City Dumpster Rental
Renting a dumpster in Peachtree City is one of the most reliable ways for homeowners, contractors and construction companies to get rid of waste conveniently and economically. With a roll-off container from a reputable local Peachtree City dumpster rental company; you will be able to have all your waste hauled away when you need to clear it, and you won't have to stress about driving it yourself to the nearest landfill, usually in multiple trips. Moreira's Service offers dependable dumpster rental service in Peachtree City, GA. Call now at (678) 330-0522 to rent a dumpster in Peachtree City today.
We Take Just About Everything
Some examples of the junk we haul away include
Refrigerator Disposal

Garbage Removal

Mattress Disposal

Foreclosure Clean Outs
Construction Waste Removal

Yard Waste Removal

Trash Removal

Appliance Removal
Television Disposal & Recycling

Furniture Removal

E-Waste Disposal

Hot Tub Disposal
Rent a Roll-off Dumpster in Peachtree City
Many homeowners and local businesses with small and medium-scale projects struggle to find reliable waste dumpsters in the right sizes and they therefore hold off from renting roll-off dumpsters. We have invested in all the standard size dumpsters which we rent out at very affordable costs, to ensure that anyone who needs a waste management dumpster can rent a roll-off dumpster in Peachtree City without any hassle. Moreira's Service is known for offering the most efficient and affordable dumpster rental services to residential customers and commercial customers in Peachtree City and the surrounding areas.

Residential Dumpster Rentals - Whenever you have a project that needs a roll-off dumpster in any size; trust Moreira's Service to deliver it to you, right when you need it so that you can get your project going and you can stay on top of your waste management. We offer residential dumpster rentals for almost all types of home improvement projects and our roll-off containers will clear all types of waste, as long as it is not toxic and not hazardous.

Contact us to get a roll off dumpster size that will be perfect for your waste removal. Whether you need a small roll off container for a small home remodeling project, or a big dumpster rental for a large-scale junk hauling project, full home cleanout or construction project clean-up; we are a dumpster rental company near you in Peachtree City that offers cheap all-size dumpster rentals. Contact us to get a 10-yard dumpster, a 15-yard dumpster, a 20-yard dumpster, a 25-yard dumpster, a 30-yard dumpster or our largest roll-off container; the 40-yard dumpster.

Commercial & Construction Dumpster Rentals - Roofing contractors and construction companies in Peachtree City trust Moreira's Service for the best large dumpster rentals at cheap dumpster rental costs. We offer large dumpster rentals, that at 30-cubic yards and 40 cubic yards; can accommodate even up to 6 tons of heavy construction waste and debris. Contact us to get a rental dumpster for your construction waste removal or commercial waste removal and we will get it to your work site on-time, so that you can begin and complete the waste removal within your schedule.

Peachtree City Dumpster Rental Sizes
Are you trying to rent a dumpster in Peachtree City and don't know how to choose the right roll-off dumpster size? You don't need to worry, because while we have a wide variety of Peachtree City dumpster rental sizes; we also have detailed sizing information and we also have experienced professionals on our team to ensure that anyone on renting dumpster in Peachtree City can be able to settle on the best dumpster rental size depending on the scale of project they have.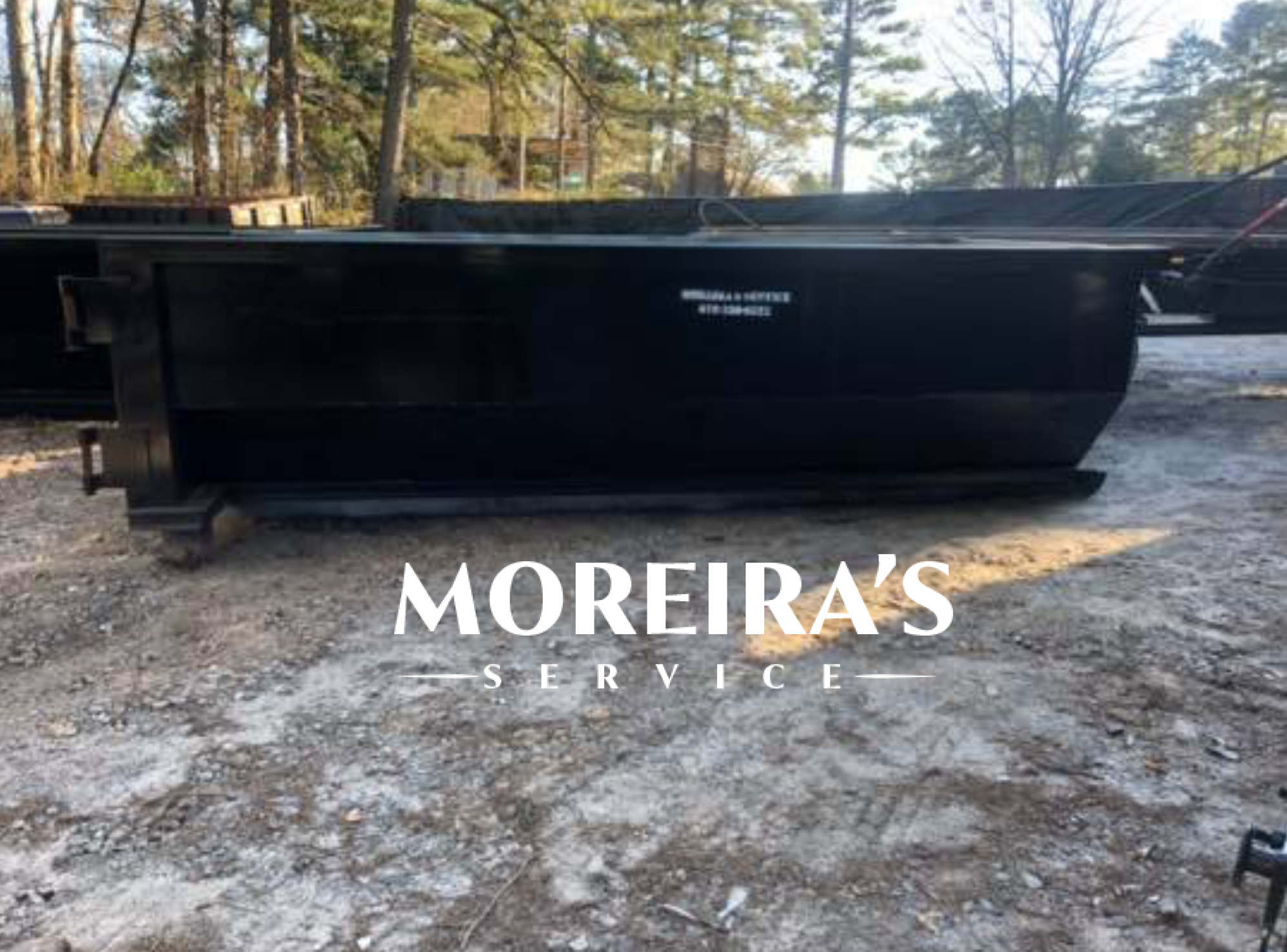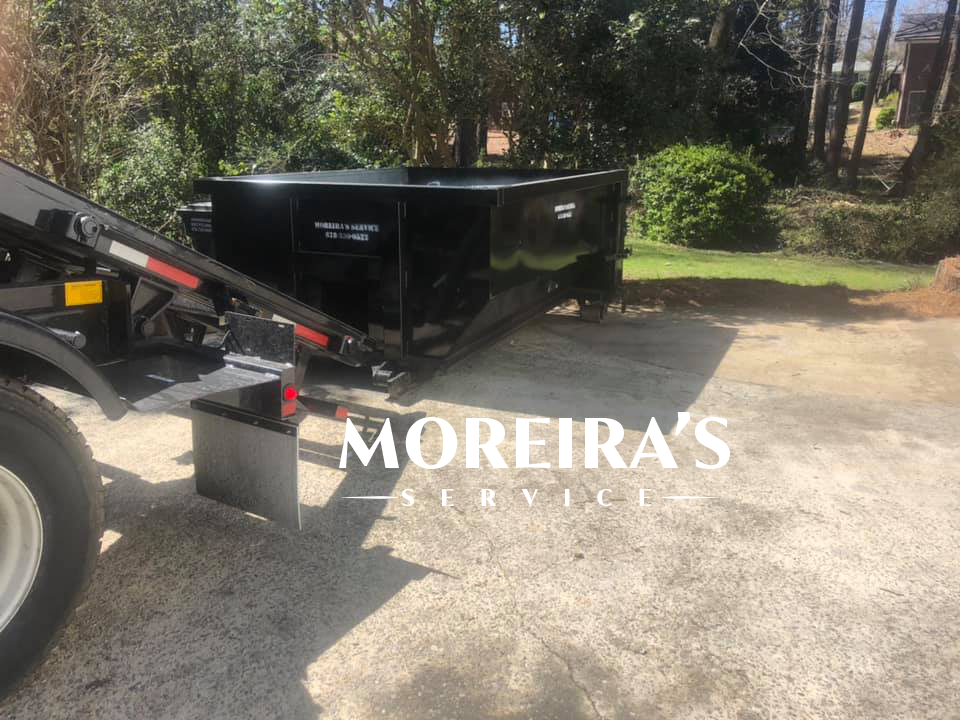 How To Rent A Dumpster in Peachtree City?
The best time to schedule a dumpster delivery is right when you want to begin your project, as this way; you will be able to dispose of the waste directly from the worksite to the roll-off container without having to pile them in heaps. You can order a rental dumpster online through our website, and you can also call us at (678) 330-0522 to rent a dumpster in Peachtree City.

Depending on where you intend to place the rental roll-off dumpster when it is delivered; you may need to get a dumpster permit first from the local office. A dumpster permit is only usually required from renters without private placement areas, to be able to use allowed public spaces as placement sites. You can contact the local office for any information about dumpster permits.


Moreira's Service offers the best dumpster rental prices in Peachtree City, GA.

A Reliable Peachtree City Dumpster Rental Company Near You
When you need a roll-off dumpster rental for your home, business or job site; Moreira's Service is your best option. We provide all size dumpster options for construction, commercial and residential waste disposal and all our dumpster options are accessible at the most flexible rental terms. We are a reliable dumpster rental company near you in Peachtree City. We also have dumpster rentals in Atlanta, GA.

A Playground of Possibilities, Things to Do in Peachtree City GA
Welcome to Peachtree City, GA, a haven of excitement and leisure. Whether you're seeking outdoor adventures or cultural experiences, Peachtree City offers a multitude of options to satisfy every interest.

Take to the skies and explore the city's unique charm from above with a hot air balloon ride. Soar above the treetops and enjoy breathtaking views of the picturesque landscape that surrounds Peachtree City. It's an unforgettable experience that will leave you in awe.

For outdoor enthusiasts, Peachtree City boasts an extensive network of multi-use paths. Rent a bicycle or hop on a golf cart and explore over 100 miles of scenic trails that wind through lush greenery, tranquil lakes, and charming neighborhoods. It's the perfect way to immerse yourself in nature and stay active.


Timeless Legacies and Notable Landmarks in Peachtree City, Georgia
Peachtree City is a city proud of its history, and its landmarks offer glimpses into its rich heritage. Begin your journey by visiting The Avenue, a vibrant open-air shopping district that beautifully combines modernity with a nod to the city's past. Explore the boutiques, dine at local restaurants, and soak in the energetic atmosphere.

Another notable landmark is the Frederick Brown Jr. Amphitheater, also known as "The Fred." This outdoor entertainment venue hosts concerts, performances, and community events throughout the year. Attend a live show under the stars and be a part of the rich cultural tapestry that thrives in Peachtree City.


A Mosaic of Flavor and Community
Peachtree City boasts a diverse culinary scene, offering a variety of top-notch restaurants to please your palate. From the savory flavors of Partners II Pizza to the exquisite dining experience at The Bistro at Flat Creek, you'll find delectable options to satisfy every craving. Indulge in culinary delights while enjoying the warm hospitality that defines Peachtree City.

Education is highly valued in Peachtree City, with schools dedicated to nurturing young minds. Institutions such as McIntosh High School, Booth Middle School, and Peachtree City Elementary School are renowned for their academic excellence and commitment to student success. Families can rest assured their children receive a good education in a caring environment.

Peachtree City also embraces a strong sense of community and spirituality. Churches like Peachtree City Christian Church and Peachtree City United Methodist Church provide a welcoming environment for worship and fellowship. They offer opportunities to connect with others, find spiritual guidance, and make lasting connections within the community.

In conclusion, Peachtree City, GA, invites you to embark on thrilling adventures, uncover its rich heritage, and embrace the warmth of its community. Engage in outdoor pursuits and explore the city's landmarks that reflect its history. Enjoy the various culinary options and take advantage of the churches and schools in Peachtree City that offer spiritual and educational nourishment. Peachtree City eagerly awaits your visit, ready to share its vibrant energy and create unforgettable memories.