Norcross Dumpster Rental
Renting a dumpster in Norcross is undisputedly one of the best waste management options amongst local contractors, construction companies, businesses and homeowners. A dumpster offers a dependable way to clear large amounts of waste and to haul it away from your property to the nearest landfill, fast and in a convenient manner. But you must ensure that you get your bin from a reputable Norcross dumpster rental provider that offers affordable versatile waste management dumpster rentals. Moreira's Service offers a trusted dumpster rental service in Norcross, GA. Call us at (678) 330-0522 to rent a dumpster in Norcross today.
We Take Just About Everything
Some examples of the junk we haul away include
Refrigerator Disposal

Garbage Removal

Mattress Disposal

Foreclosure Clean Outs
Construction Waste Removal

Yard Waste Removal

Trash Removal

Appliance Removal
Television Disposal & Recycling

Furniture Removal

E-Waste Disposal

Hot Tub Disposal
Rent a Roll-off Dumpster in Norcross
You can rent a roll-off dumpster in Norcross now in the right size dumpster and get to dispose of your waste in an economical manner. We offer a wide variety of different size dumpsters for rent, and we have the cheapest dumpster rental pricing in town. We know that different scales of projects require different sizes of dumpsters, and we have invested in a variety of dumpster options to ensure that every renter can get a dumpster that can perfectly accommodate all their waste, at reasonable pricing. Moreira's Service takes pride in being the go-to dumpster rental service for commercial, and residential dumpster rentals in Norcross and the surrounding areas.

Residential Dumpster Rentals - Whether you have a large home renovation project or you need a waste dumpster to clear debris from your yard; we will provide the roll off dumpster you need to clear and haul it away conveniently in a single trip. Contact us for any size dumpster rental and we'll have it delivered and placed in your preferred placement site, in time for your project.

We provide a wide variety of waste management roll off dumpster sizes in Norcross. Or customers can select from six dumpster options we provide, depending on the scale of their projects. Whether you need a small dumpster or a large roll off container that can haul heavy junk items like furniture, shingles or construction waste; we've got you covered. Our dumpster rental sizes include; 10-yard dumpsters, 15-yard dumpsters, 20-yard dumpsters, 25-yard dumpsters, 30-yard dumpsters and 40-yard dumpster rentals.

Commercial & Construction Dumpster Rentals - Are you looking for a commercial dumpster rental or construction dumpster rental near you in Norcross? Moreira's Service is a reputable dumpster rental company that provides all size rental dumpsters at very affordable dumpster rental costs. When you need a large dumpster that can be hauled to your construction site, business location or work site without a hassle; just give us a call. Our large dumpster rentals can accommodate heavy and cumbersome waste and we can deliver a roll-off container tpo you even on the same day.

Norcross Dumpster Rental Sizes
Without prior experience renting a dumpster in Norcross, you may not feel very confident in selecting one of the Norcross dumpster rental sizes we offer, especially since we offer a wide variety of dumpsters. We have provided sizing information for each roll off container size, but feel free to give us a call if you need more information, or if you have additional questions about our dumpster rental sizes. We offer free and no-obligation consultation and we will be happy to help you out so that you can be able to choose the right dumpster for your project.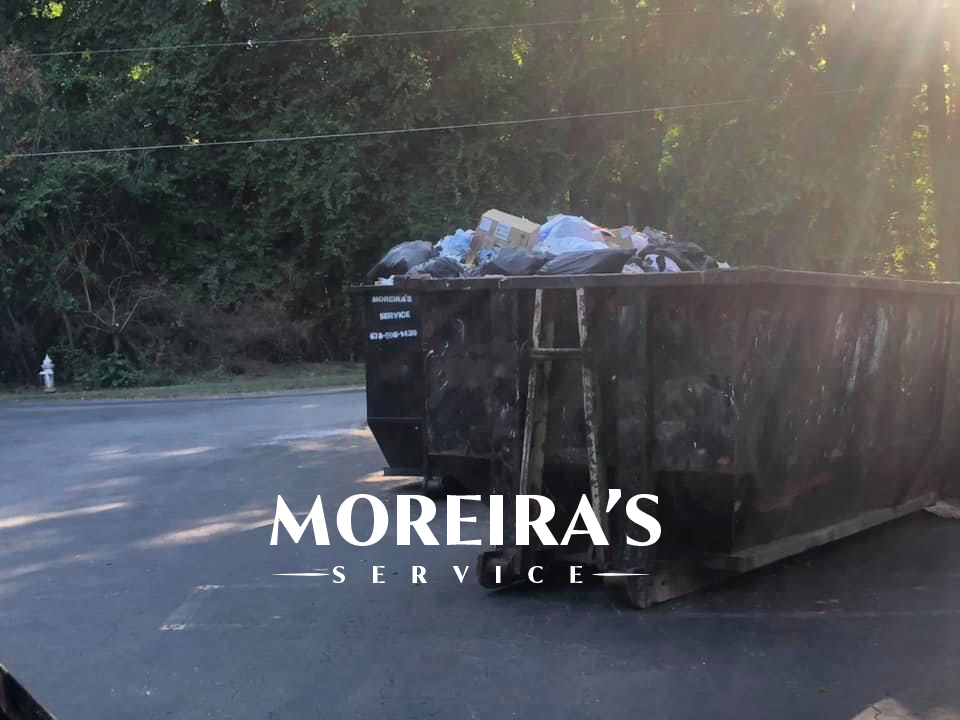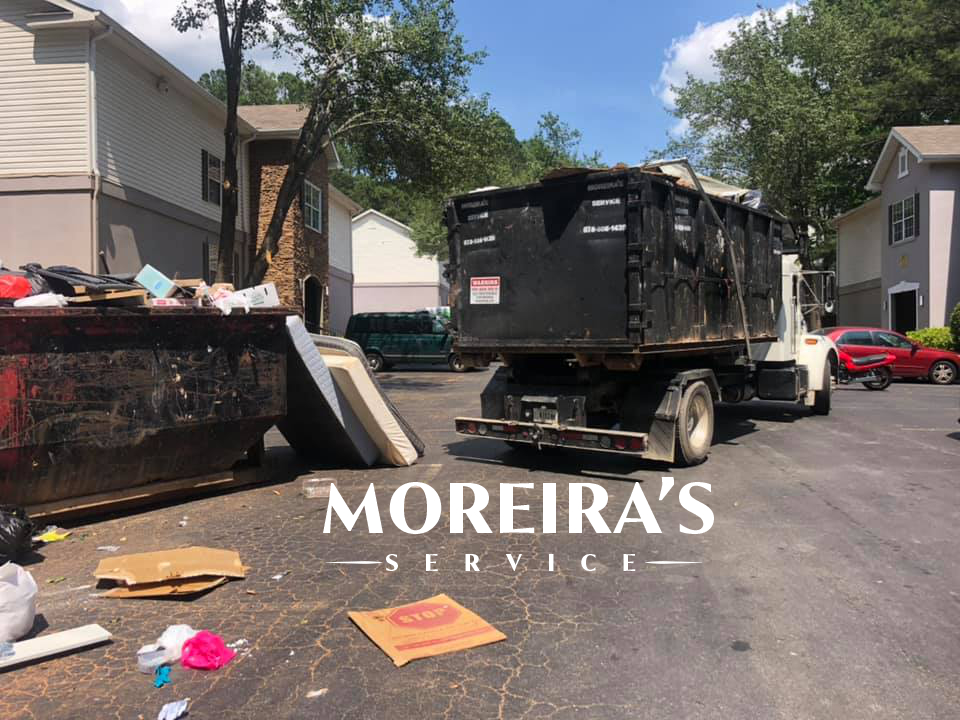 How To Rent A Dumpster in Norcross?
Are you ready to get a rental dumpster for your upcoming waste removal project? Check the dumpster options we provide on our website and simply select the one you prefer and use our online booking service to make an order. Alternatively, you can contact us at (678) 330-0522 to rent a dumpster in Norcross and book a delivery based on your own schedule.

Most homeowners have space on their driveways or yards and as such, they don't need dumpster permits, when renting roll-off dumpsters in Norcross. However, renters without private placement space usually have to get special dumpster permits from the local office, as the permits allow the renter to use even the side of a street as a dumpster placement space.

Moreira's Service offers the best dumpster rental prices in Norcross, GA.

A Reliable Norcross Dumpster Rental Company Near You
When you need a roll-off dumpster rental for your home, business or job site; Moreira's Service is your best option. We provide all size dumpster options for construction, commercial and residential waste disposal and all our dumpster options are accessible at the most flexible rental terms. We are a reliable dumpster rental company near you in Norcross. We also have dumpster rentals in Peachtree City, GA.

Where Adventure, History, and Culinary Delights Await
Welcome to Norcross, GA, a vibrant city that offers a wealth of experiences for everyone. Whether you're seeking outdoor adventures, cultural immersion, or a culinary journey, Norcross has something to satisfy every interest.

Start your exploration by visiting the Norcross Art Splash, a popular annual festival celebrating art and creativity. Experience live music, browse through unique artworks, and enjoy interactive exhibits that showcase the town's vibrant artistic community.

For outdoor enthusiasts, a visit to Thrasher Park is a must. This scenic oasis features walking trails, picnic areas, and a serene lake. Take a leisurely stroll, relax with a book by the water's edge, or challenge your friends to a friendly game of frisbee. Nature's beauty awaits your discovery.

When hunger strikes, Norcross's top restaurants will tantalize your taste buds. For a savory culinary adventure, try the sumptuous Mediterranean dishes at Mediterranean Grill, where the flavors of Greece and the Middle East come together in a mouthwatering fusion. Craving something with a Southern flair? Head over to Local Republic, a gastropub known for its inventive dishes and craft beer selection. From global flavors to local favorites, Norcross's dining scene will delight your palate.
Exploring the History of Norcross, Georgia
Norcross is a city steeped in history, and its landmarks offer a glimpse into its captivating past. Visit the Norcross Historic District, where you can admire well-preserved Victorian-era architecture and take a leisurely stroll through the charming streets. Immerse yourself in the town's heritage and imagine the stories that unfold within its historic buildings.

Another significant landmark is the Norcross Train Depot, a beautifully restored train station that pays homage to Norcross's railroad history. Explore the museum inside, which showcases artifacts and photographs from the past, and gain insights into the town's connection to the railways that shaped its development.


Community Spirit: Churches and Schools in Norcross
Norcross takes pride in its educational institutions, providing students with a foundation for success. Esteemed schools such as Norcross High School, Paul Duke STEM High School, and Summerour Middle School foster academic excellence and offer a supportive environment for students to thrive.

For those seeking spiritual nourishment, Norcross offers a diverse array of churches representing various denominations. Whether you're looking for a traditional worship experience at Norcross First United Methodist Church or a contemporary service at Victory World Church, you'll find welcoming congregations that embrace and uplift the community.

In conclusion, Norcross, GA, is a city that seamlessly blends adventure, history, and culinary delights. Engage in exciting activities, immerse yourself in the town's heritage through its landmarks, and indulge in the flavors of its top restaurants. Embrace the community spirit fostered by its schools and churches. Norcross eagerly invites you to create lasting memories and experience the warmth and charm that make it a truly special place.